Work Environment
For special education degree holders who go on to take positions as special education teachers, their work environment can vary depending on where they are hired. Most special education teachers are employed in public schools, though some teach in private schools, hospitals, and residential facilities. Such facilities included psychiatric and substance abuse hospitals, outpatient care centers, and residential mental retardation, mental health, and substance abuse facilities. There are special education teachers who tutor students who are homebound or who are hospitalized. Special education teachers specializing in educating preschoolers and infants can work in day care centers, preschools, and/or in other educational support services.
Each work environment has its own demands and challenges. Teaching students with disabilities often means working to establish a connection with students who are not always easy to reach or educate. Forward educational progress can be rewarding for both the special education teacher and the special education student. But because of the demands of the position, many special education teachers can become drained, both emotionally and physically. This aspect of the job can lead to burn out and compel many special education teachers to quit. This situation contributes to the critical shortage of special education teachers.
Also, most special education teachers have heavy workloads and are responsible for a number of administrative duties, some of which are mandated by district policy and/or law. There is a great amount of paperwork that must be completed for each special education student, including his or her Individualized Education Plan (IEP), which includes information on the student's abilities and disabilities as well as short-term and long-term education goals. The progress of special education students must also be documented fully.
For most special education teachers who work in public or private schools, a ten-month school year is the norm, as it is for most general education teachers. They work throughout normal school hours and often have homework to grade, lesson plans to prepare, and paperwork to fill out after school. A number of schools offer educational services year round to special education students. Some teachers choose to work year round as well. For special education teachers who take positions in other environments, their hours and work week vary depending on the needs of the facility or homebound student. Salaries also vary depending on where the special education teacher works and what kind of students are being taught. In general, special education teachers make from about $33,000 to over $80,000 per year.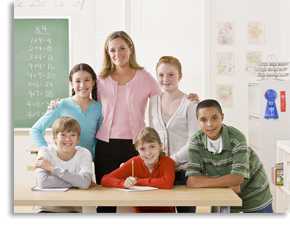 The vast majority of special education teachers work in public schools. Within public school systems, a special education teacher's work environment can vary. Some teach only special education students in their own classroom or resource center environment, while others teach or co-teach in general education classrooms in which both special education students and general education students are taught. Some teachers who work only with special education students can be specialized special education resource teachers. Such teachers work one on one with certain special education students who spend most, if not all, of their time in general education classrooms as part of the trend towards inclusion of special education students in general education environments whenever possible. Other specialized special education resource teachers work one on one with special education students in a resource room environment, away from a general education or special education classroom.
Because of the needs of many special education students, a special education teacher's work environment often means working closely with others, including other teachers, administrators, health professionals, teacher's assistants, and parents or guardians, depending on the special education student and the place of employment. For schools that emphasize inclusion, for example, a special education teacher might work closely with a general education teacher in adapting a class curriculum to the needs of various special education students. Such a teacher might also consult with educational experts or doctors for his or her students. At the same time, a special education teacher must chart the progress of his or her students, and share findings with school administrators and each student's parents or guardians.
Last Updated: 05/07/2014