Finding a Job in Special Education
There is a critical shortage of qualified teachers with special education degrees or related training. School systems have seen an increase in the number of special education students because of earlier diagnoses of learning disabilities, educational reforms that have lead to higher standards for education, and legislation that emphasizes training and employment for people with disabilities. Special education is one of the fastest growing job fields, and many areas in the United States report difficulties in finding qualified applicants. Inner cities and rural areas are especially in need of special education teachers, though job openings can often be easily found in urban and suburban areas as well.
There are a number of steps those seeking a position as a special education teacher must take. After completing a degree and a teacher training program, as well as becoming licensed in the state in which he or she would like to find employment, the job seeker must create a resume. The resume should include information on educational experience and licenses held. Aspiring teachers should also list relevant work experience, including student teaching and other jobs that have involved any aspect of teaching and/or working with children.
Next, an aspiring special education teacher should identify school districts that have openings for such teachers. Requirements for submitting applications vary from state to state, if not school district to school district. In general, applicants should gather information like college transcripts, proof of licensure, proof of degree, and, perhaps, have a fingerprint card prepared through a company like LifeScan Service for necessary background and criminal checks.
While teaching job openings can sometimes be found through teacher organizations or job web sites, one of the best ways to find teaching jobs is by searching the web sites of individual school districts. Such web sites list teacher vacancies and teaching opportunities in that district as well as basic requirements for applicants. After identifying the school district to which he or she wants to apply and ensuring all requirements are met (including having had a minimum grade point average in college), the aspiring teacher completes an online application and/or submits a resume. The application can ask for basic background information, educational and job experience, proof of licensure or certification, and/or other attributes like language and computer abilities. Sometimes, the applicant might attach these documents, in scanned form, to the application or submit them in person at a later date.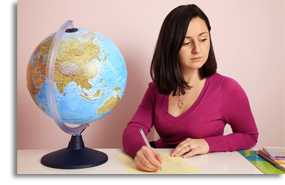 After the applications are submitted, they are reviewed by the school district. Some job applicants may be asked by the district for additional information or documents. During the review process, school districts will ensure that applicants match their needs and current selection criteria. After the application is reviewed, selected applicants will usually meet with the district's human resources department for an interview. This interview will further determine if an applicant is a good match for a job in the district and meets that district's standards.
If the district-level human resources office approves an applicant, the aspiring teacher is referred to schools that have positions available in his or her area of expertise. For a job-seeking special education teacher, this means a school with a special education position that matches his or her background and abilities. The individual schools will look over the applications, then call in selected teachers or aspiring teachers for interviews. In some schools, a committee will conduct this interview. After this interview, the person or committee in charge of hiring will decide if the applicant should be hired or not. If he or she is hired, the teacher must complete more paperwork at the school district. This paperwork could include the verification of credentials, the completion of health clearance (such as passing a tuberculosis test), fingerprinting, the signing of a contract, and reaching an agreement on salary and other benefits.

Last Updated: 05/07/2014